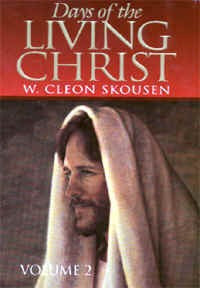 Days of the Living Christ, Volume 2
Volume 2 is a continuation of Volume 1.
It covers the amazing developments in the last six months of the Savior's life. During this brief period, we encounter a broad vista of scriptural surprises. For example, we discover that during the crisis connected with the last week in the Savior's life, all of the apostles lost their testimonies. Jesus knew this
would happen, and at the Last Supper He told Peter that when he was reconverted he should strengthen his brethren. It seems very strange that in spite of all the Savior's marvelous miracles, His half-brothers rejected Him during His ministry; however, in the end, they all accepted Jesus as their Savior and one of them became an apostle.
Students of the scriptures recognize the New Testament as one of the greatest scriptures ever written, but even those who have read it a number of times may still find a great many new and exciting treasures of inspiration and knowledge as this second volume unfolds.
---